the fugees
biografia:
fue un grupo estadounidense de rap y reggae formado en West Orange, Nueva Jersey, en 1989. Su repertorio incluye sobre todo hip hop, con algo de soul y música caribeña (principalmente reggae). Los miembros del grupo son el líder/rapero/productor Wyclef Jean, la rapera/cantante Lauryn Hill y el rapero Pras Michel. Tanto Jean como Michel tienen ascendencia haitiana: Hill es afroestadounidense, de South Orange, New Jersey. El nombre del grupo viene de la palabra "refugee" (refugiado). Han publicado dos discos, siendo The Score multiplatino y ganador de dos Grammy. Tras su segundo trabajo en 1997, cada uno de sus componentes inició su carrera en solitario. Lauryn Hill y Wyclef tuvieron mucho éxito con sus discos, mientras que Michel se centró en la grabación de bandas sonoras e interpretación.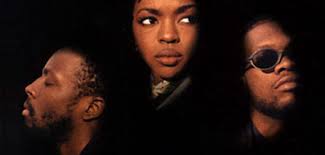 Lauryn Noelle Hill
(born May 26, 1975) is an American singer, songwriter, rapper, record producer, and actress. She is best known for being a member of the Fugees and for her critically acclaimed solo album The Miseducation of Lauryn Hill, which won numerous awards and broke several sales records. Raised mostly in South Orange, New Jersey, Hill began singing with her music-oriented family during her childhood. She enjoyed success as an actress at an early age, with her older brother Graham Hill, appearing in a recurring role on the television soap opera As the World Turns and starring in the 1993 film Sister Act 2: Back in the Habit. In high school, Hill was approached by Pras Michel to start a band, which his friend, Wyclef Jean, soon joined. They renamed themselves the Fugees and released the albums Blunted on Reality (1994) and the Grammy Award-winning The Score (1996). In the latter record, which sold six million copies in the United States, Hill rose to prominence with her African-American and Caribbean music influences, her rapping and singing, and her rendition of the hit "Killing Me Softly". Hill's tumultuous romantic relationship with Jean led to the split of the band in 1997, after which she began to focus on solo projects.
Nel Ust Wyclef Jean
born on October 17, 1969), best known by his professional name Wyclef Jean, is a Haitian rapper, musician and actor. At the age of nine, Jean immigrated as a child to the United States with his family and settled there. He first achieved fame as a member of the New Jersey hip hop group the Fugees. Jean has won three Grammy Awards for his musical work. On August 5, 2010, Jean filed for candidacy in the 2010 Haitian presidential election. The Electoral Commission ruled him as ineligible to stand for office, as he had not met the constitutional requirement to have been resident in Haiti for five years. Jean's efforts at earthquake relief, highly publicized in 2010 throughout Haiti and the United States, were channeled through his charitable organization, Yéle Haiti. The charity, which conducted education and welfare activities in Haiti between 2005 and 2010, effectively closed in 2012. It was investigated for failure to file tax returns and mismanagement of funds; a high proportion of its money went to travel and administrative expense. The New York Times reported that much of the money raised by the organization in the Hope for Haiti Now telethon was retained by Jean for his own benefi
pras
Samuel Prakazrel Michel más conocido como Pras, es un rapero nacido en Brooklyn, Nueva York el 19 de octubre de 1972. Forma parte del grupo The Fugees, con el que consiguió el éxito en 1996 gracias al álbum The Score, que vendió alrededor de 18 millones de copias en todo el mundo. Al igual que sus compañeros Wyclef Jean y Lauryn Hill, lanzó un álbum en solitario en otoño de 1998, llamado Ghetto Supastar. Grabado bajo Ruffhouse Records, el single de más éxito fue "Ghetto Supastar (That Is What You Are)", con Mya y Ol' Dirty Bastard. Su disco de 2005, Win Lose or Draw, incluía el tema "Haven't Found". También en 2005, Wyclef, Hill y Pras anunciaron la vuelta de The Fugees con la grabación del álbum Take It Easy, que saldrá a la venta en 2006. El primer single se llama igual que el disco, "Take It Easy".
top 10