wu tang clan
Biografía:
wu tang clan Wu-Tang Clan es un grupo de hip hop originario de Staten Island, Nueva York, EEUU. (En sus canciones se refieren a Staten Island como Shaolin). El grupo está formado por ocho MC's (después de la muerte de Ol' Dirty Bastard en 2004). Todos sus miembros han lanzado álbumes solistas, y el grupo ha producido diferentes grupos y solistas. Éste era el plan desde el principio del grupo: convertirse en un imperio y tomar la comunidad hip-hop con la saturación de buenos artistas. El estilo del grupo ha evolucionado con el paso del tiempo y los proyectos solistas de los miembros han diferido en sonido y contenido, pero el grupo es generalmente conocido por la violencia, beats surrealistas y letras agresivas cargadas de metáforas, referencias a la vida el Bronx o a la forma de vivir del lugar, la "StreetLife" de New York City e insinuaciones al folkclore chino y a películas de artes marciales. Wu-Tang Clan es uno de esos grupos que ya tiene asegurado un puesto muy alto en el podio del rap internacional. Cuando saltaron a la palestra allá por el 93, desde los suburbios de Staten Island, este mega-combo de diez artistas inauguró una forma original de afrontar el género con su sonido rudo y fantasmagórico, influido por las artes marciales y con continuas referencias a la cultura pop. Discos como Enter the Wu-Tang se han convertido en clásicos de cualquier estantería selecta, y ni siquiera la muerte de uno de sus miembros más destacados, Ol' Dirty Bastard, en 2004, pudo frenar su trayectoria (aunque tampoco les impidió sacar algunos discos más flojillos). Su carrera ha quedado plasmada en un documental, Wu: The Story of the Wu-Tang Clan, dirigido por Gerald K. Barkley. Una cinta que recibió el premio al mejor documental en la pasada edición del Hip Hop Odyssey Film Festival.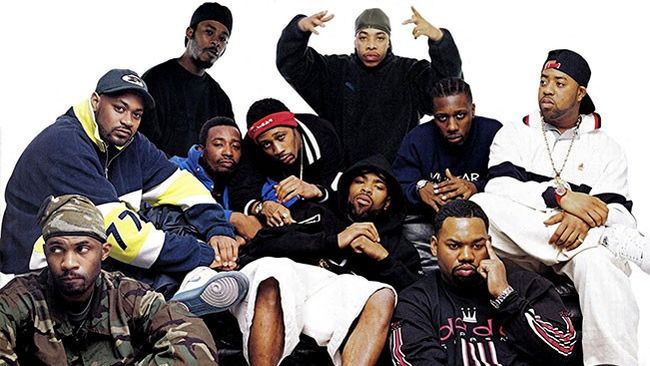 RZA
Robert Fitzgerald Diggs (nacido el 5 de julio de 1969 en Brooklyn, Nueva York), más conocido como RZA o Bobby Digital, es un rapero, productor y actor estadounidense, creador y líder del grupo neoyorquino de East Coast rap Wu-Tang Clan. Es una figura destacada en producciones discográficas, pues ha producido álbumes de artistas conocidos internacionalmente. Posteriormente, obtuvo la atención por su trabajo de calificación y actuando en películas. También ha producido sus propios álbumes, donde sus canciones se refieren al poder masculino: las mujeres, las drogas, el alcohol y el disparo de armas. Además de ser el líder de Wu-Tang Clan, RZA, fue un miembro del grupo de rap Gravediggaz, donde uso el alias de El RZArector. Su álbum más reciente, Digi Snacks, fue lanzado en junio de 2008, después de este último lanzamiento, RZA ha planeado más proyectos como hacer una secuela del álbum del debut de Raekwon, Only Built 4 Cuban Linx. También ha planeado producir una canción del próximo álbum de Dr. Dre, Detox, que se espera que salga a la venta próximamente.
Ghostface Killah
Dennis Coles (born May 9, 1970), better known by his stage name Ghostface Killah, is an American rapper and prominent member of the Wu-Tang Clan After the group achieved breakthrough success in the aftermath of Enter the Wu-Tang (36 Chambers), the members went on to pursue solo careers to varying levels of success. Ghostface Killah debuted his solo-career with Ironman in 1996, which was well received by music critics. He has continued his success over the following years with critically acclaimed albums such as Supreme Clientele (2000) and Fishscale (2006). His stage name was taken from one of the characters in the 1979 kung fu film Mystery of Chessboxing.[5] He is the founder of his own label Starks Enterprises. Ghostface Killah is critically acclaimed for his loud, fast-paced flow, and his emotional stream-of-consciousness narratives containing cryptic slang and non-sequiturs. In 2006, MTV included him on their honorable mention list of The Greatest MCs of All Time,while the editors of About.com placed him on their list of the Top 50 MCs of Our Time (1987–2007), calling him "one of the most imaginative storytellers of our time. Q magazine called him "rap's finest storyteller." Pitchfork Media stated that, "Ghostface has unparalleled storytelling instincts; he might be the best, most colorful storyteller rap has ever seen."[12] NPR called him "a compulsive storyteller", and asserted, "His fiction is painterly."
Raekwon
Corey Woods(born January 12, 1970), better known by the stage name Raekwon the Chef, is an American rapper and a member of the Wu-Tang Clan. He released his solo debut, Only Built 4 Cuban Linx... in 1995, and has since recorded numerous solo albums, as well as continuing to work with Wu-Tang and providing an extensive number of guest contributions to other hip hop artists' works. He is the founder of his own label ICEH20 Records. Raekwon has been cited as a pioneer of Mafioso rap. In 2007, the editors of About.com placed him on their list of the Top 50 MCs of Our Time (1987–2007). The Miami New Times described Raekwon's music as being "street epics" that are "straightforward yet linguistically rich universes not unlike a gangsta Iliad.
Ol' Dirty Bastard
Russell Tyrone Jones (November 15, 1968 – November 13, 2004), better known under his stage name Ol' Dirty Bastard (or ODB), was an American rapper and producer. He was one of the founding members of the Wu-Tang Clan, a rap group primarily from Staten Island, New York which first rose to mainstream prominence with their 1993 debut album Enter the Wu-Tang (36 Chambers). After establishing the Wu-Tang Clan, Ol' Dirty Bastard went on to pursue a successful solo career and contributed as a rapper/producer for the Fugees. However, his professional success was hampered by frequent legal troubles, including incarceration. He died on November 13, 2004, of a drug overdose, two days before his 36th birthday.[4] Before his death, Ol' Dirty Bastard recorded his third solo album, which remains unreleased. Ol' Dirty Bastard was noted for his "outrageously profane, free-associative rhymes delivered in a distinctive half-rapped, half-sung style".His stage name was derived from the 1980 martial arts film Ol' Dirty and the Bastard (also called An Old Kung Fu Master, starring Yuen Siu-tien).
Method Man
Clifford Smith (born April 1 1971) better known by his stage name Method Man, is an American rapper, record producer, and actor. He is known as a member of the East Coast hip hop collective Wu-Tang Clan. He is also one half of the hip hop duo Method Man y Redman. He took his stage name from the 1979 film Method Man. In 1996, he won a Grammy Award for Best Rap Performance by a Duo or Group, for "I'll Be There for You/You're All I Need to Get By", with American R y b singer-songwriter Mary J. Blige. Clifford has appeared in films such as Belly, How High, Garden State, The Wackness, Venom, Red Tails, Keanu and The Cobbler. On television, he and frequent collaborator, fellow East Coast rapper Redman, co-starred on the short-lived Fox sitcom Method y Red. He also had a recurring role as Tug Daniels on HBO's Oz and Melvin "Cheese" Wagstaff on the HBO's The Wire. In 2016, he had a cameo role in Luke Cage which aired on Netflix. In 2012, The Source placed him on their list of the Top 50 Lyricists of All Time.
GZA
Gary Grice (born August 22, 1966), better known by his stage names GZA (/ˈdʒɪzə/ JIZ-ə) and The Genius, is an American rapper and songwriter. A founding member of the hip hop group the Wu-Tang Clan, GZA is known as the group's "spiritual head", being both the oldest and the first within the group to receive a record deal. He has appeared on his fellow Clan members' solo projects, and since the release of his critically acclaimed solo album Liquid Swords (1995), he has maintained a successful solo career. He is considered to be one of the best MCs and lyricists because he is "armed with sharp metaphors and a smooth flow" and has been noted for his lyrical style, which often dismisses typical rap story lines in favor of science and wide-ranging philosophies. An analysis of GZA's lyrics found that he has the second largest vocabulary in hip hop music. He teamed up with an education group to promote science education in New York City through hip hop
Inspectah Deck
Jason Hunter (born July 6, 1970), better known by his stage name Inspectah Deck, is an American rapper, producer, and member of the groups Wu-Tang Clan and Czarface. He has acquired critical praise for his intricate lyricism, and for his verses on many of the group's most revered songs. He has grown to become a producer in his own right, taking up tracks for fellow clansmen and his own projects.
U-God
Lamont Jody HawkinsHawkins was born in Brownsville, Brooklyn, New York. However he moved to Staten Island as a youth. He was originally a beatboxer for Cappadonna, and was friends with future members Method Man, Inspectah Deck and childhood friend of Raekwon. Sometime before the members united, U-God was mentored in rap by Cappadonna. He soon became friends with RZA and Ghostface Killah, and he began rhyming under the alias Golden Arms, based on the Kung-Fu movie Kid with the Golden Arm. Later on he changed his name to U-God (which is short for his Five-Percent Nation righteous name "Universal God Allah"
Masta Killa
Jamel Irief (born Elgin Turner; August 18, 1969), better known by his stage name Masta Killa, is an American rapper and member of the Wu-Tang Clan. Though one of the lesser-known members of the group (he was featured on only one track on their 1993 debut album Enter the Wu-Tang (36 Chambers)), he has been prolific on Clan group albums and solo projects since the mid-1990s. He released his debut album No Said Date in 2004 to positive reviews, and has since released two additional albums.
Cappadonna
Darryl HillCappadonna (also known as Cappachino) was a member of the early stages of what was to become the Wu-Tang Clan, with RZA, GZA, Ol' Dirty Bastard, Ghostface Killah, and Raekwon. However, Cappadonna went to prison and was replaced by Method Man. In the 2010 documentary Wu-Tang Saga, Cappadonna stated that his name is an acronym: "Consider All Poor People Acceptable Don't Oppress Nor Neglect Anyone." Cappadonna made his recording debut as an affiliate of the Wu-Tang Clan on Raekwon's hit single "Ice Cream". He was also a guest star, along with Raekwon, on Ghostface Killah's solo debut album, Ironman. He made his first appearance on a Wu-Tang Clan album in 1997 on Wu-Tang Forever on the single "Triumph". Following his appearance on Forever, he contributed significantly to the group's third studio album, The W, at which point his appearances were no longer marked with "Featuring Cappadonna", as they had been on Forever. After a falling out with RZA the next year over royalties, he did not appear at all on the group's subsequent album Iron Flag. He eventually reunited with the group for their concert at 2004's Rock the Bells, and appeared on 2007's 8 Diagrams.
top 10